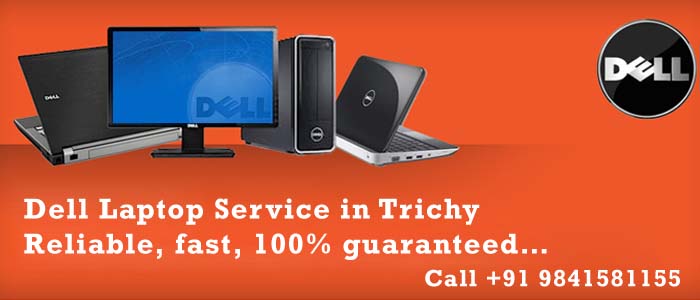 We having more experience and efficient, cost effective in repair, upgrade, maintenance and replacement of all makes and models of Dell laptops with customer satisfaction - Dell Alienware, Dell Inspiron, Dell Precision, Dell XPS, Dell Vostro, Dell Studio and Dell Latitude laptops, contact our Service Centre in trichy today. Come in store or call +91 9841581155 for repair quotes or to book in a repair.

Our main goal is to get your faulty Dell laptop up and running as quickly as possible with the least amount of downtime. Our service center engineers and technicians are hardware experts skilled in the diagnosis and resolution of all model Dell laptops hardware and software problems

We are Specialists in Handling all model dell hard disk & Operating System, dell laptop hard disk drive data recovery services and dell laptop motherboard down to chip level repair and We have one of the fastest turnaround times available for all types of Dell Laptop Repair services in Trichy, Tamilnadu.

Some of the other dell laptop services we provide :

Dell Laptop Data Recovery Services
Dell Laptop Screen Repair
Dell Laptop Screen Replacement
Dell Laptop Keyboard Repair
Dell Laptop Keyboard Replacement
Dell Laptop Hard Drive Upgrade
Laptop Motherboard Service
Dell Laptop Hard Drive Replacement

Our Speciality :

Affordable, Qualified Dell Repair Experts
Same Day Dell Laptop Screen Replacement
Highest Quality Dell Laptop Repair Service
Affordable Prices
Fast turnaround times*
Dell Laptop Spare Parts Sale
Friendly & Helpful staff

Bring your faulty dell laptop down to dell laptop service in trichy center, Our service center staff will advise you on the most cost-efficient way to get your dell laptop back to running like new and perfect. Come and be part of our dell laptop service center in trichy happy customers. we can arrange pick up services for those who cannot bring their fault dell laptop to our repair centre, call us : +91 9841581155.